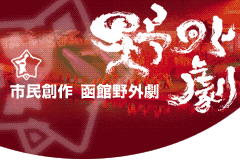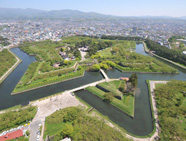 A special historical site GORYOKAKU
主催・運営
NPO法人市民創作
「函館野外劇」の会
【事務局】
〒040-0001
函館市五稜郭町29番7号
五稜郭櫻交流ハウス内
TEL: 0138-56-8601
市民創作函館野外劇 「星の城、明日に輝け」
NPO法人 市民創作「函館野外劇」の会

Historical Characters

1-Ainu and Koropokkuru
This is the time of Koropokkuru (Earthgods) and the Ainu

■Koropokkuru
Koropokkuru were dwarves or Kamui (an Ainu god), who were much loved by the Ainu and often appeared in Ainu legends. They are said to have lived under the broad leaves of butterbur plants or in holes in the ground. They were called Toichise-unkle (people living in an earthen house), Toisekotcha-kamui (a god beside an earthen house), or simply Tonchi. Quiet and gentle people, they hunted and fished in Hokkaido and lived before the arrival of the Ainu. They were between 3 cm and 120 cm tall!


---

2-The time of Kahei Takadaya
In this time Hakodate thrived as the gateway to Ezo (Hokkaido) and enjoyed a strong connection with Edo (Tokyo).

■Kahei Takadaya
Kahei Takadaya was born in 1769 in Motomura Tsushi (Goshiki-machi), Awajitsuna subprefecture, an island near Osaka. He moved to Hyogotsu (Hyogo Ward, Kobe) to become a sailor. In 1795, he constructed a ship named Shinetsu-maru with a displacement of 417 tons in Dewa (Yamagata and Akita Prefectures) and captained it. The following year he opened trading stores with the name of Takadaya in Hyogotsu and Hakodate, and started selling goods he transported between Ezo and the Osaka area. He also established a shipping route through the treacherous waters between Kunashir and Etorofu Islands (off the northeast coast of Hokkaido), and developed fisheries off the coast of Etorofu Island. In 1801, the Tokugawa Shogunate appointed him as a permanent skipper. Five years later, he was given rights to trade in Ezo goods (fur, salmon, kombu and so on) and became deeply involved in the Tokugawa government's management of Ezo. He established his good reputation by carrying out thorough quality control and he became a wealthy merchant in a short time. He made a great contribution to the development of agriculture, commerce and industry as well as the development of port and shipbuilding operations in Hakodate.

■Toyoji Tsuzuki
Tsuzuki worked at Kahei Takadaya's shipyard. When Commodore Mathew Perry visited Hakodate after the conclusion of the Treaty of Amity between the US and Japan in 1854, he was able to inspect Perry's ship. In 1857, he constructed the Hakodate-maru, based on Perry's ship's design which included then-modern features such as multiple masts. He went on to build as many as 15 ships all over the country. He is known as Japan's first western-style ship builder. The Hakodate-maru, Japan's first western style sailing ship, was restored to its original form and exhibited at the Seikan Exhibition in 1988. It is currently on display at Hakodate's Nishi (West) Pier.


---

3-Commodore Perry, the Black Ships, and the Opening of the Port of Hakodate
In this time, Hakodate was designated an international trading port and became exposed to foreign culture.

■Commodore Mathew Perry
On June 3, 1853, Commodore Perry arrived at the port of Uraga (at the entrance to Tokyo Bay) with four warships. He presented a letter from the United States president and requested that Japan conclude a Treaty of Amity and Commerce. In January 1854, he returned with eight warships, anchored off what is now Yokohama, and demanded an immediate reply. Commodore Perry demanded three items: 1. To protect the property and crew of US ships damaged or lost as a result of shipwreck 2. To open several ports to supply firewood, water, food and repairs for US ships. 3. To open several ports in order to trade with US ships. The Shogunate disagreed with the ports Perry proposed to be opened. Instead, he proposed to open Uraga, Ryukyu (Okinawa) and Matsumae (90km southwest of Hakodate). Commodore Perry conceded Ryukyu, but stuck to Matsumae. Finally, the Shogunate agreed to open Hakodate instead of Matsumae, and Shimoda instead of Uraga. These ports were opened at the conclusion of Treaty of Amity between the US and Japan. Hakodate, known as "Zipangu Hakodade", took in American culture and thrived.


---

4-Construction of Goryokaku Fort, and Equal Opportunity of Education
In this time, Goryokaku Fort, the first western-style fort in Japan, was constructed. In addition, the abolition of class discrimination was realized at Hakodate Shojutsu Shirabesho (research center) under the equal opportunity of education.

■Ayasaburo Takeda
In 1856, Hakodate Magistrate's Office founded the Hakodate Shojutsu Shirabesho as the first academic institute in Hokkaido. Hakodate Shojutsu Shirabesho invited the scholar Ayasaburo Takeda to teach a variety of western subjects such as Dutch, navigation, physics, chemistry and gunnery. It produced many talented graduates who served to build modern Japan. Ayasaburo, known as "the Leonardo da Vinci of the end of the Edo period", exerted his skills in planning and designing Japan's first western style fort, Goryokaku.


---

6-The Hakodate War
In this time Takeaki Enomoto, Toshizo Hijikata, Jules Brunet, et al. tried to establish "the Republic of Ezo."

■Takeaki Enomoto
Enomoto was born in 1836 in the Shitaya district of Edo (Taito Ward, Tokyo) to a direct vassal of the Shogun. After graduating from the Shogunate's Naval Training Center, he went to the Netherlands to study in 1862. He studied techniques in naval warfare and law for 5 years, returning to strife-torn Japan. He was promoted to Kaigun Fukusosai, the second highest rank in the Tokugawa Navy. In 1868 he left Edo Castle and went to Goryokaku with the former Shogunate army and his fleet. He established a government in Hakodate, filling the posts with army and navy officers or higher. The Enomoto administration founded the Republic of Ezo. After establishing the Republic, he petitioned the new government loyal to the Emperor to let them reclaim Ezo so as to save the survivors of the former Shogunate. However, the new government rejected the petition, which led to the Hakodate War. The Republic was defeated. However, Enomoto was pardoned and allowed to work for the new government in the Hokkaido Development Agency. Later he served as envoy to Russia and the Ministers of Navy, Communications, Education, and Agriculture and Commerce.

■Toshizo Hijikata
Toshizo Hijikata was born in 1835 to a farmer in Tama (western Tokyo). While making a living selling medicine, he learned swordsmanship in the style of Tennen Rishin-ryu led by Shusuke Kondo, and later joined the Shinsengumi, the Shogunate's special police force located in Kyoto, along with Isami Kondo and others. Afterwards, serving under the Aizu clan, he became a deputy leader of the Shinsengumi. He exerted his talent as a key figure of the group, and the members held him in awe. After the last Shogun returned the executive authority to the emperor, the Toba-Fushimi battle between the Shogunate army and the imperial army broke out. The Shinsengumi was defeated in the battle. Then, Hijikata separated from Isami Kondo and joined the army forces led by Keisuke Otori to make a new Shinsengumi. The new Shinsengumi fought many battles in the northern part of the main island of Japan. After Aizu Castle (Fukushima Prefecture) fell to the new government, he boarded one of Enomoto's ships in Sendai and sailed to Ezo. After landing near Mori in a winter storm, the squad led by Hijikata swept aside the troops of the new government at the Kakkumi Pass (some 20km northeast of Hakodate) and entered Goryokaku Fort. Then he captured Matsumae Castle to prove that he was invincible. He was chosen as a vice-minister of the Army of the Enomoto Administration. In 1869, he received information that the new government's fleet would gather at Miyako Bay, and joined an operation to steal it. Unfortunately, this was not successful. After the new government forces landed on Ezo, he fought them in intense gunfights. However, on May 11, 1869, he was fatally shot while riding his horse at Ippongi Gate (Wakamatsu-cho, Hakodate) on his way to recapture the town.

■Jules Brunet
Jules Brunet, born in 1838 in Belfort, eastern France, was an Artillery Second Lieutenant, an Artillery Major, and finally the Armed Forces Chief of France. After graduating from Military Academy and an artillery school, he was appointed as a second lieutenant in 1857. After receiving the national order of Legion d'honneur, Chevalier, for his Mexico service between 1862 and 1867, he was sent to Japan as part of a military assistance advisory group at the request of the Tokugawa Shogunate, and became well known here as an artillery advisor. He committed himself to the Enomoto fleet and fought in the Hakodate War. When the Enomoto army was facing defeat, he boarded the French corvette Coetlogon. He transferred to the Duplex and returned to Marseille, France, where he fought many battles.


---

7-Big Fires in Hakodate and Takuboku
In this time Hakodate suffered from many big fires, the Port Festival was started to help revive people's spirits, and Hakodate gradually rose from the ashes. It also shone with the poetic work of Takuboku Ishikawa and others.

■Takuboku Ishikawa
In 1907 Takuboku Ishikawa arrived in Hakodate and settled in Aoyagi-cho. He worked as an editor for a local magazine. After that, he was employed as a substitute teacher at Yayoi Elementary School and was joined by his wife Sadako and their daughter Kyoko. He also worked as a reserve reporter for a newspaper company, the Hakodate Nichinichi Shimbun. The fire of August, 1907 was Hakodate's biggest ever. Although he and his family survived, both of his workplaces were destroyed, and he was unemployed. They left Hakodate the next month. Takuboku's poems, which have Hakodate as a backdrop, received recognition only after his premature death at 27. You can find out more about this tragic figure's life and work by visiting the popular museum and statue at Omori Beach.